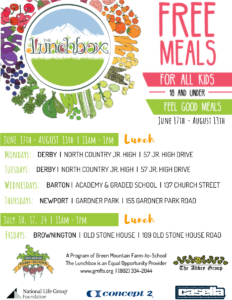 Historic Brownington Village will get a visit by Green Mountain Farm-to-School's  Lunchbox Program on Friday July 10, 17, and 24 from 11 AM-1 PM. Lunchbox provides healthy, locally sourced meals to Northeast Kingdom communities.
The Lunchbox Program's food truck serves hot lunch and breakfast for the next day. The food truck is open to all, with meals for all children under 18 FREE. Adults can purchase a meal for $10 (cash or check only). You are welcome to pick up meals and then stay and picnic around the Old Stone House village. Please follow all COVID-19 safety guidelines including maintaining six feet of social distance.
The grounds are in full bloom and ready to host your picnic! Next to the pond, you can spot turtles, birds, and other creatures. At our Giving Garden, take a look at the veggies, herbs, and oak saplings we've been tending. Or find a spot at the top of Prospect Hill where you can see all the way down to the Willoughby Gap and up to Lake Memphremagog. Come out to enjoy a meal that's good for you and for our communities.